A Content Stream is the source (usually a social media account) of Posts that you schedule to appear in one or multiple Friends2Follow Content Blocks (Widgets) or into online banner ad spaces that will serve Friends2Follow Social Powered Banner Ads instead of traditional banner ad creative.
How to Add a Content Stream:   
Login to your Friends2Follow Administrative Site (If you do not have this information please email Reinig@Friends2Follow.com) (Figure 1a).
Click on "Streams & Posts" (Figure 1b)then "Add a Stream" (Figure 1c) in the Global Navigation Bar near the top of any page within your Friends2Follow Administrative Site. 
Select the type of Stream you want to schedule (Figure 1d).
Please note: Facebook, Twitter, YouTube and Instagram are listed as specific options. All other types of Social Media and RSS Streams (Google+, Flicker, Blogger/Blogspot, etc) need to be scheduled using the RSS feed. 
Scroll down and fill out all required "About" fields for the Stream you are adding (Figure 1e).
Please Note: The Title of the Stream is different than the Name of the advertiser/content provider. For reporting purposes, please be as descriptive about the Stream as possible (ie Title: Joe's Bar Facebook Stream Advertiser: Joe's Bar).  
Select which Channel(s) you would like this stream to appear in (where you'd like posts from this stream to appear) (Figure 1f). 
Set Moderation and Per Hour Post Rate Limit options for this Stream (Optional) (Figure 1g).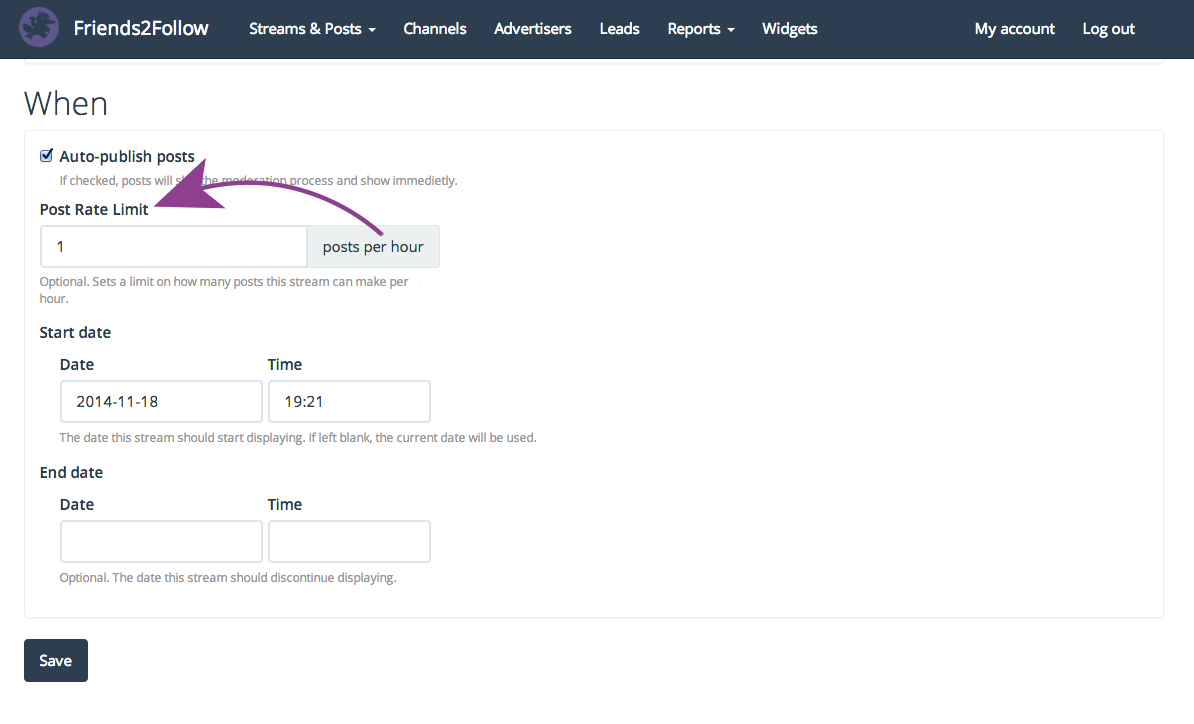 Select the Start and End date (for until further notice advertisers, do not put an End date) (Figure 1h). 
Click "Save" and from now on, every time that Stream is updated by the owner/author, it will appear in the identified Content Block(s) (Figure 1i).